Think Explore Share Panelists
The Arts Work Fund
For the inaugural Think Explore Share grants, AWF gathered a dynamic group of experienced practitioners, administrators, and culture workers to review more than 80 proposals. Equity, representation, and the innovative ways artists and arts organizations have pivoted to continue their artistic expression and serve their communities during these extremely challenging times for the sector permeated the discussion.
---
Sandra Aponte
Sandra is program manager of community impact for The Chicago Community Trust. In this role, she manages the Trust's strategic efforts in strengthening the social impact sector. Her portfolio also includes support for culture and creativity. Sandra leads the SMART Growth program, an evidence-based capacity building program. Sandra brings over 15 years of experience working in the arts and education field. Prior to joining the Trust, she was the school partnerships and programs manager at The Field Museum. From 2006 to 2009, Sandra participated in the Fellowship in Arts and Culture Management program by The Chicago Community Trust—a highly selective, rigorous initiative that provided leadership experience through residencies at some of the most renowned cultural institutions throughout the city. Sandra's professional experience also includes serving as the development manager for the Puerto Rican Arts Alliance, program manager for the Teachers Academy for Mathematics and Science, and an art gallery business manager.
Sandra has a master's degree in business with a concentration in international business from DePaul University and a bachelor's degree in marketing from The Fashion Institute of Technology. Aponte is co-chair of the Arts Work Fund and serves as board member of the National Association of Latino Arts and Cultures.
Mesha Arant
Mesha (she/her/hers) is a Chicago-based musician and arts administrator. She is the Manager of Administration & Programs at 3Arts, a nonprofit arts organization that advocates for women artists, artists of color, and D/deaf and disabled artists. She also serves as the organization's accessibility coordinator, assuring that all communications and programs are accessible to their constituents.
Mesha was selected for a 2019 Interfaith Innovation Fellowship, a fellowship awarded to five people who are poised to cultivate ideas and projects that creatively address social issues through an interfaith lens. Her project, In Tune, brings artists from different religious and philosophical traditions together to collaborate and create work around four themes: birth, shame, joy, and suffering/death. Mesha is a singer-songwriter; her music is situated somewhere between folk and soul, the music she grew up listening to. Her finger-picking style and striking voice have been described as "hauntingly beautiful." Her first major recording project is forthcoming. She received her B.A. from Wofford College in 2012 and a Master of Divinity from Yale University in 2015. To learn more about her work or music, follow her Instagram at @meshaarant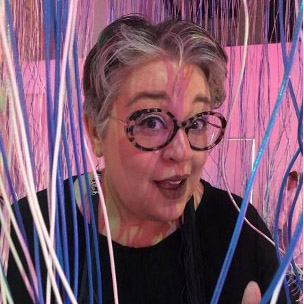 Tara Betts
Tara is the author of Break the Habit, Arc & Hue, and the forthcoming Refuse to Disappear. In addition to her work as a teaching artist and mentor for young poets, she has taught at several universities, including Rutgers University and University of Illinois-Chicago. Recently, she taught poetry workshops for three years at Stateville Prison via Prison + Neighborhood Arts Project. Tara is Poetry Editor at The Langston Hughes Review and the Lit Editor at Newcity. Dr. Betts is also in the process of establishing Whirlwind Learning Center on Chicago's South Side.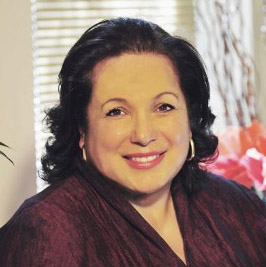 Juana Guzman
For more than 35 years, Juana has served as a nationally acclaimed consultant, manager, fundraising and earned income specialist to non-profit organizations, museums, corporate and philanthropic sectors throughout the United States. Throughout her career, Ms. Guzman has championed the promotion and preservation of the arts, culture, heritage and as a catalyst for diverse American populations. In 2012, Juana, former Vice-President of the National Museum of Mexican Art(NMMA), the largest accredited Latino arts institution, left the Museum to start her own company I Juana Know Inc. Juana previously served as the Director of Community Cultural Development for the Department of Cultural Affairs for 18 years. Ms. Guzman has served as a team technical advisor and consultant for the Ford Foundation's Shifting Sands Initiative in New York City, NY that focused on funding diverse non-profit organizations and museums throughout the United States. Ms. Guzman served as a consultant for Leveraging Investments in Creativity (LINC) in New York City. LINC was a national initiative aimed at improving the living and working conditions for diverse artists in all disciplines.
Juana is the Co-Founder of the National Association of Latino Arts and Cultures, Co-Founder of the NMMA national Sor Juana Ines de la Cruz Festival, former 3Arts Board Chair and 2020 Co-Chair for 3Arts Artists Awards and served (2018-2020) as a technical advisor for the Joyce Foundation's Cultural Program initiative: "Artist As Problem Solver II: Building the Capacity of Artists & Cultural Workers as Civic Leaders in Chicago. Currently, Juana serves as an Associate Consultant for the DeVos Institute of Arts Management as part of the Bloomberg Philanthropies' Arts Innovation in Management (AIM), and a Consultant for the University of Houston's Inter-University of Latino Research a national partnership of 26 Universities throughout the US.
Kimberly Dixon-Mays
Kimberly is a poet, playwright and performer. A Cave Canem, Callaloo and Ragdale fellow, Kimberly's poetry has been published in journals including Reverie, Anthology of Chicago, the anthology Trigger Warning, Uproot magazine, RHINO magazine (finalist, Founder's Prize, 2018; Illinois Arts Council Agency Literary Award, 2020) and Consequence magazine (finalist, Prize in Poetry, '14). As a playwright, Kimberly has received readings and staged productions at Crossroads Theatre Company, Windy City Playhouse, and Rivendell Theatre among others. In addition, from 2005-2013 she was a recurring member of the Guild Literary Complex's Poetry Performance Incubator, co-creating and performing in its original works Tour Guides and Like Bread. Kimberly also served as Executive Director of the Guild Literary Complex from 2010-2012, which produced several literary events and programs around Chicago.
Kimberly's play The Gizzard of Brownsville was a 2002 finalist for the Theodore Ward Prize for African-American Playwrights; (Nine) was a featured reading for Congo Square Theatre Company's 2019 August Wilson New Play Initiative, and a semi-finalist for the 2019 Eugene O'Neill National Playwrights Conference; and Last Will was selected for virtual reading as part of Mad Cow Theatre's 2020 Women's Voices Mini-Festival. She was also a semi-finalist for 2020 National Black Theatre I Am Soul Playwright Residency and recipient of NBT's Soul Series Lab Playwriting Micro-Development Session. Kimberly is a 2018-20 Russ Tutterow Fellow with Chicago Dramatists. She holds a B.A. in Psychology/Theater Studies from Yale, an M.A. in Afro-American Studies from UCLA, and a Ph.D. in Interdisciplinary Theatre/Drama from Northwestern.
Julia Perkins
Julia, chief strategist of MBMD Strategic Consultants LLC, has over 25 years' experience in strategic planning, marketing, audience engagement and facilitation. She has an established reputation within the field, recognized for her expertise in breaking down complex organizational issues, analyzing them, and strategically, and creatively, developing solutions. Julia also brings a focused lens on organizational change, process, and planning, and offers the tools, strategies, and supports that lead to sustained cultures of equity and inclusion.
Julia is racial healing practitioners, trained in the Truth, Racial Healing & Transformation (TRHT) model designed by the W. K. Kellogg Foundation. Prior to establishing MBMD Consultants, Perkins served as Director of Community Programs for eight years at The Art Institute of Chicago, where she developed strategies, evaluation systems, and designed arts education programs to promote involvement between the city's diverse communities and the museum. Perkins served six years as a Program Officer for the AFL-CIO working with labor unions in the Caribbean and Central America. She also was a volunteer with the United States Peace Corps. Perkins received her B.A., Marketing Research from DePaul University and a M.A., Arts Administration from the School of The Art Institute of Chicago.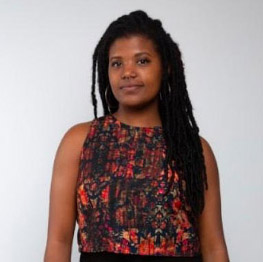 Adia Sykes
Adia is a Chicago-based independent curator and arts administrator. Her current research examines the potential of curating as an advocacy tool for racial equity in the arts. Through her practice, she seeks to center philosophies of improvisation and intuition, engaging them as tools by which meaningful relationships between artists and viewers can be cultivated, while leaving space for the vernacular to mingle with constructs of history and theory. Her curatorial projects include Locating Memory (Chicago Mayor's Office, 2018), Project Radio London (Centro Arte Opificio Siri in Terni, Italy, 2018), and The Petty Biennial.2 (Chicago, 2019-2020). She has also realized projects with the Art Institute of Chicago, Sullivan Galleries, Woman Made Gallery, Material Exhibitions, Roman Susan Gallery, and Comfort Station. Adia earned a Master of Arts from the Department of Arts Administration and Policy from the School of the Art Institute of Chicago (2018) and a BA in Anthropology from the University of Chicago (2016) with a focus on material culture and museums.
Jackie Taylor
Jackie serves as the Founder, Executive Director and CEO of the 44 year - old Black Ensemble Theater. Jackie Taylor has written, produced and directed more than 100 plays and musical biographies, including Don't Make Me Over (The Story of Dionne Warwick), The Marvin Gaye Story, I Am Who I Am (The Story of Teddy Pendergrass), God Is A Black Man Named Ricky, Those Sensational Soulful 60's, The Other Cinderella, Somebody Say Amen, At Last: A Tribute To Etta James, and The Jackie Wilson Story, among a myriad of other highly regarded productions. She is a theater graduate from Loyola University, has a Master's in Education from the American College of Education and holds a Doctor of Humane Letters from DePaul University. Ms. Taylor is also an educator having taught in the Chicago Public Schools for more than 35 years.
Ms. Taylor is a consummate actress having starred in numerous theatrical productions with many major theaters. She won national attention in her first film "Cooley High". She has gone on to be featured in several other films including Barber Shop II, To Sir With Love: Part II, Hoodlum, Losing Isiah and most recently Chiraq. Her television credits include being featured in such television shows as Early Edition, The Father Clements Story, and several television specials where, as a celebrity, she played herself. Jackie has worked with Sidney Poitier, Vanessa Williams, Bill Duke, Ice Cube, Steven Williams, and Spike Lee, just to name a few.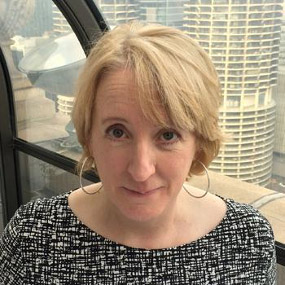 Ellen Placey Wadey
Ellen joined the Gaylord and Dorothy Donnelley Foundation (GDDF) in 2013. She was executive director of the Guild Complex – a literary arts organization – for seven years and in that time built the Guild's impressive artistic accomplishments on a firm foundation of organizational development. Before that, Ellen was the director of marketing and development for the Marwen Foundation. Before joining GDDF, she was an independent consultant focusing on small arts organizations including the Chicago Cultural Alliance and the Ragdale Foundation. She has reviewed arts proposals on behalf of Prince Charitable Trust and served as a jurist or panelist for the Cuyahoga Community Partnership for Arts and Culture, Illinois Arts Council, Kentucky Foundation for Women, Rasmussen Foundation, Third Coast Festival New Audio Competition, and United States Artists. She is currently the co-chair of the Arts Work Fund. Ellen has M.A. in fiction writing from the University of Illinois-Chicago and an M.F.A. in fiction writing from the University of Pittsburgh. She is the recipient of the Scott Turow Fiction Prize and has been nominated for a Pushcart Prize. For ten years, she co-produced Prosody, a radio show interviewing poets and writers, for the National Public Radio outlet in Pittsburgh.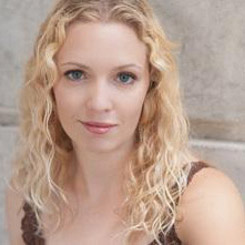 Audra Yokley
Audra (she/her) is the Program Officer for Performing Arts grants for the Paul M. Angell Family Foundation (PMAFF) and manages the foundation's theater portfolio in Chicago, Cleveland, and Detroit. Before joining PMAFF in 2019, Audra was a fundraiser for theatre nonprofits and in higher education, an actor, and intimacy choreographer. She still occasionally takes on artistic projects if life and time allow. She earned her MFA in Theatre Performance at Florida Atlantic University, BA in Theatre at the University of Alabama at Birmingham, is a member of Actors Equity Association, and has extensively studied the Michael Chekhov Acting Technique.
Meet the Grantees