Think Explore Share Panelists
The Arts Work Fund
For the Spring cycle of Think Explore Share grants, AWF gathered a dynamic group of experienced practitioners, administrators, and culture workers to review nearly 90 proposals. Equity, representation, and the innovative ways artists and arts organizations have pivoted to continue their artistic expression and serve their communities during these extremely challenging times for the sector permeated the discussion.
---
Geoffrey Banks
Geoffrey is a Senior Program Officer at The John D and Catherine T. MacArthur Foundation, working with the Chicago Commitment team focusing on the Advancing Leadership and Culture, Equity, and the Arts grantmaking areas. A Chicago native, Geoffrey previously served as Senior Program Officer at the Richard H. Driehaus Foundation. During this time, he served on the Steering Committee for the Arts Work Fund and as co-chair of Chicago African Americans in Philanthropy.
Geoffrey began his career as a community organizer with a Chicago grassroots organization called the Southwest Youth Collaborative and later worked at the Children & Family Justice Center at the Northwestern University School of Law Legal Clinic, leading Community Panels for Youth, a community-based juvenile court diversion program based on the principles of restorative justice. Geoffrey holds a Master of Arts degree in Sociology from the University of Illinois at Chicago, where he completed additional work toward the Ph.D. with a concentration in Race, Ethnicity, and Gender. As an Instructor, Geoffrey taught undergraduate level courses in Social Inequalities and Racial and Ethnic Groups. Geoffrey received a Bachelor of Arts degree from the University of Michigan with high honors in African-American Studies and History.
Roxanna Connor
Roxanna, (Acting Managing Director, Victory Gardens Theater). In her 20+ year theater career, she has worked as a teaching artist, arts administrator, director, and producer. Prior to joining Victory Gardens as the Director of Education, Roxanna worked in the Education Departments of Chicago Shakespeare Theater, Congo Square Theatre, where she played a pivotal role in each organization's outreach to teachers and students. She also served on the staff of the Krannert Center for the Performing Arts on the University of Illinois Urbana Champaign campus.
Roxanna's experience includes writing curriculum for students of all ages, developing community engagement projects, and establishing partnerships with organizations across Chicago. Roxanna received a BA in Speech Communications and Theatre Arts from Clark Atlanta University, Atlanta, GA.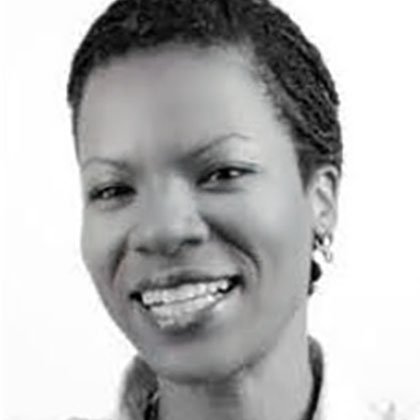 Kimberly Dixon-Mays
Kimberly is a poet, playwright, and performer. A Cave Canem, Callaloo and Ragdale fellow, Kimberly's poetry has been published in journals including Reverie, Anthology of Chicago, the anthology Trigger Warning, Uproot magazine, RHINO magazine (finalist, Founder's Prize, 2018; Illinois Arts Council Agency Literary Award, 2020) and Consequence magazine (finalist, Prize in Poetry, '14). As a playwright, Kimberly has received readings and staged productions at Crossroads Theatre Company, Windy City Playhouse, and Rivendell Theatre, among others.
In addition, from 2005-2013, she was a recurring member of the Guild Literary Complex's Poetry Performance Incubator, co-creating and performing in its original works, Tour Guides and Like Bread. Kimberly also served as Executive Director of the Guild Literary Complex from 2010-2012, which produced several literary events and programs around Chicago.
Kimberly's play The Gizzard of Brownsville was a 2002 finalist for the Theodore Ward Prize for African-American Playwrights; (Nine) was a featured reading for Congo Square Theatre Company's 2019 August Wilson New Play Initiative, and a semi-finalist for the 2019 Eugene O'Neill National Playwrights Conference; and Last Will was selected for virtual reading as part of Mad Cow Theatre's 2020 Women's Voices Mini-Festival. She was also a semi-finalist for the 2020 National Black Theatre I Am Soul Playwright Residency and recipient of NBT's Soul Series Lab Playwriting Micro-Development Session. Kimberly is a 2018-20 Russ Tutterow Fellow with Chicago Dramatists. She holds a B.A. in Psychology/Theater Studies from Yale, an M.A. in Afro-American Studies from UCLA, and a Ph.D. in Interdisciplinary Theatre/Drama from Northwestern.
Ciera McKissick
Ciera is an independent writer, curator, cultural producer, and the founder of AMFM. She is also the coordinator of Public Programs at the Hyde Park Art Center and Communications Associate at Ox-Bow School of Art. She created AMFM, originally a web magazine, as an independent study project in 2009 at the University of Wisconsin-Madison, where she studied Journalism and Mass Communications. Her work since then often involves collaboration through supporting Black and brown artists, local arts organizations and seeks to stimulate community engagement that's driven by inclusivity, accessibility, intention, and care. Projects and events have been featured in The Chicago Tribune, Chicago Reader, The Chicago Sun-Times, Southside Weekly, Afropunk, DapperQ, The Milwaukee Business Journal Milwaukee Neighborhood News.
ABOUT AMFM: AMFM is a lifestyle brand and incubator space for artists and the people. We support emerging and established artists by offering a platform for them to showcase their talents and their passions on a larger scale and to the public through our website, which includes in-depth Q&A's, reviews, and content with artists and creatives from all over the globe, and through our curated events. AMFM curates and hosts events combining the arts to cultivate community, diversity, inclusivity, intergenerational engagement, and of course, good vibes. We are known for our dynamic art and music events, like our monthly pop-up, The Jazz Series in Chicago, highlighting different spaces around the city through a visual art and live music showcase. Our large conceptual events like Maskerade, Dapper Ball, and Indigo Nation encourage collaboration through many art practices and parties with a purpose, mission, or cause.
Jill Perez
Jill Perez is a Chicago-based community engagement organizer and live arts producer. Professionally, she has worked in many local art institutions, including Victory Gardens Theater, The Den Theatre, and most recently at the Museum of Contemporary Art Chicago as a part of their Strategic Communications team.
As a producer and curator, Jill seeks out new work that creates celebratory spaces and paves the way for queer futures. She has worked to make experiences with collectives and spaces such as A Queer Pride and Reunion Chicago. She is the co-creator of Hot Wheelz Festival, a virtual platform conceived during the COVID-19 pandemic to host annual curatorial residencies that center live art. The festival facilitates works-in-progress-like collaboration, exploring what it means to create live engagements in a time when digital interaction is essential. Hot Wheelz Festival 2020 hosted seven curators and featured works by sixteen artists. Jill holds a B.F.A. in Theatre Arts from DePaul University and is currently completing the Applied Project Management certification course at Northwestern University. She has lived in and around Chicago her whole life.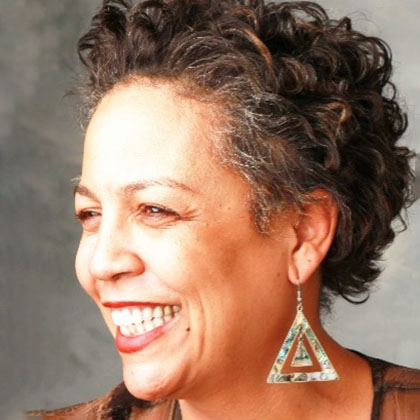 Julia Perkins
Julia, chief strategist of MBMD Strategic Consultants LLC, has over 25 years' experience in strategic planning, marketing, audience engagement and facilitation. She has an established reputation within the field, recognized for her expertise in breaking down complex organizational issues, analyzing them, and strategically, and creatively, developing solutions. Julia also brings a focused lens on organizational change, process, and planning, and offers the tools, strategies, and supports that lead to sustained cultures of equity and inclusion.
Julia is racial healing practitioners, trained in the Truth, Racial Healing & Transformation (TRHT) model designed by the W. K. Kellogg Foundation. Prior to establishing MBMD Consultants, Perkins served as Director of Community Programs for eight years at The Art Institute of Chicago, where she developed strategies, evaluation systems, and designed arts education programs to promote involvement between the city's diverse communities and the museum. Perkins served six years as a Program Officer for the AFL-CIO working with labor unions in the Caribbean and Central America. She also was a volunteer with the United States Peace Corps. Perkins received her B.A., Marketing Research from DePaul University and a M.A., Arts Administration from the School of The Art Institute of Chicago.
Melissa Phipps
Melissa graduated from Fox College of Business in 2001 with an Associate's Degree in Applied Sciences. In 2004, she welcomed her first son and began her career as a legal secretary working downtown at a few small to mid-size law firms. In 2008, she was hired as a Program Associate for The Elizabeth Morse Charitable Trust. In 2014, following her second son's birth, she returned to The Elizabeth Morse Charitable Trust as its Program and Administrative Officer. Melissa was appointed to serve on the Options For Youth Board of Directors in 2020 and maintains her position as a member. Also, she continues to serve on the Steering Committee of the Arts Work Fund of The Chicago Community Trust since 2014, and from 2018-2020, she served as Co-Chair.
Mignon Stewart
Mignon is the senior program officer at Prince Charitable Trusts, working across all of its program areas, including arts, environment, ending youth homelessness, sports-based youth development, and violence reduction. She is also part of the team that oversees the Trusts grantmaking program in Newport, Rhode Island.
Previous positions include Director of Operations at The League of Chicago Theatres, Director of Resource Development at Muntu Dance Theatre, and IMPACT Project Manager at Arts and Business Council Chicago. Mignon is an active member of Chicago's theater community, where her recent directing projects include Othello (Babes with Blades Theatre Company) and Breath, Boom (Eclipse Theatre). She has a BA from Loyola University of Chicago and an MFA from Roosevelt University.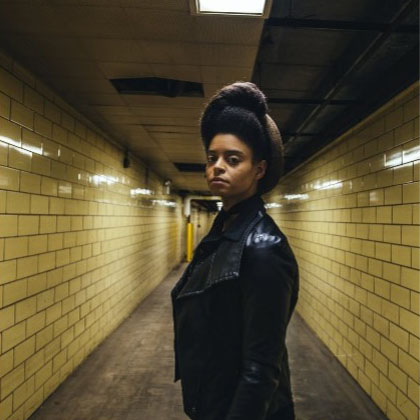 Mojdeh Stoakley
Mojdeh is an award-winning writer, performer, activist, and educator. They've performed and taught all over the United States, Europe, and Turkey! Mojdeh is a genderqueer Afro-Persian AfroFuturist but also identifies as a Cultural Worker and Social Practice Artist pairing art and action as catalysts for social change. They've been featured on the BBC, Button Poetry, Warner Bros, NPR (WBEZ Chicago), and SlamFind.
They've been professionally performing since 14 and have since shared the stage with folks like Saul Williams, John Legend, ONO, Genesis P Orridge, many HBO Def poets, and Neil Hilborn, among others.
Named 2019 Artist-in-Residence for Elastic Arts Dark Matter Residency, 2019 and 2021 nominee for "Best Spoken Word Artist" at the Chicago Music Awards and named a Writer to Watch by Guild Literary Complex. They're a proud Board Member of Surviving the Mic (@survivingthemic), Founder of Interfaith Poets (@interfaithpoets), Director of the 29th National Poetry Slam, frontwomxn of the electronic poetry-punk group »radiant devices« (@radiantdevices), and recently founded Social Practice Labs (@socialpracticelabs), an organization that catalyzes artist activists which is currently spearheading an "Artist Made Mutual Aid" initiative delivering COVID-19 relief to many Black, Latine, and Indigenous communities nationwide. To follow Mojdeh, find them at @themojdeh on Instagram and at mojdehstoakley.com
Brett Swinney
Brett is an organizer, producer, videographer, curator, photographer, web developer, podcast producer, and musician. He is the Community Arts Engagement Manager for the Arts + Public Life.
Prior to Arts + Public Life, he served as the co-founder/director of the Art Leaders of Color Network and AnySquared Projects; the Production Director for Links Hall; the Volunteer Coordinator for the Hyde Park Jazz Festival; and the Program Manager for the Chicago Artists Resource. In addition to his career appointments, Brett has organized and curated dozens of gallery shows, performances, and community arts events for the last 25 years.
Brett has received awards from the Propeller Fund, SAIC Enrichment Fund, and the Awesome Foundation. Brett earned his M.A. in Arts Administration & Policy from the School of the Art Institute of Chicago in 2014 and a B.A. in Photography from Columbia College Chicago in 2004.
Asha Iman Veal
Asha is a curator whose work advocates cross-cultural solidarity across communities kept apart due to geographic or political distance and centers artists of color in global dialogues. She is the curatorial fellow at the Museum of Contemporary Photography (Chicago) and is a democracy fellow with the Alfred Landecker Foundation and Humanity in Action (Berlin). Asha is Adjunct Assistant Professor in the Department of Arts Administration & Policy at the School of the Art Institute of Chicago. Her upcoming exhibitions include a solo show of work by artist Martine Gutierez at MoCP (June 2021); a group exhibition at 6018North as part of the Chicago Architecture Biennial (September 2021); and the ten-year anniversary exhibition of the Center Program at Hyde Park Art Center (December 2021).
Asha has recently juried for Arts + Public Life and the Center for the Study of Race, Politics, and Culture at the University of Chicago; Experimental Sound Studio; 3Arts; OxBow; and ACRE. She has worked at several arts and advocacy organizations in Chicago; formerly founded and led an independent publishing project, and she was an Associate Festival Producer for playwright Eve Ensler's V-Day global movement to end violence against women and girls (NY). Asha's additional background includes researching arts organization models and contemporary projects, touring arts ecologies and/or participating on projects, and working in New York, Edinburgh, Vietnam, Juárez, New York, Havana, Tokyo, and more. She is a member of the BMW Foundation Responsible Leaders Network and Transatlantic Core Group and was recently invited onto the Board of Heaven Gallery. (B.A. The Gallatin School at New York University, M.F.A. The New School, M.A. School of the Art Institute of Chicago).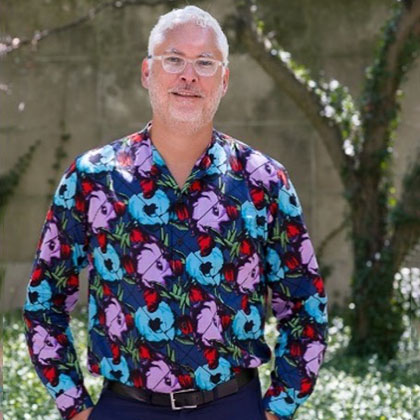 Angel Ysaguirre
Angel is the Executive Director of the Court Theatre, the professional theatre at the University of Chicago, and the only League of Resident Theatres theater on Chicago's south side. The Court Theatre is dedicated to innovation, inquiry, intellectual engagement, and community service. Court's productions re-examine classic texts that pose enduring and provocative questions about the human experience.
Previously, he served as the Executive Director of Illinois Humanities from 2014 to 2018. From 1999 to 2005, Angel served as Illinois Humanities' Director of Programs, creating programs and series that include The Odyssey Project, Einstein's Revolutions, and Brown v Board 50 Years Later: Conversations on Race, Integration, and the Law. He was Deputy Commissioner at the Chicago Department of Cultural Affairs and Special Events from 2012 to 2014, where he managed the City's public art program, creative industries offices, and arts programming. From 2005 to 2012, he was Director of Global Community Investing at The Boeing Company, overseeing the company's grantmaking program in 60 offices throughout the globe. He began his career in Chicago as a program officer at the McCormick Foundation.
Meet the Grantees