Think Explore Share Panelists
The Arts Work Fund
For the Summer cycle of Think Explore Share grants, AWF gathered a dynamic group of experienced practitioners, administrators, and culture workers to review the proposals.
---
Walter Abrego
Walter Abrego is a Senior Associate Program Officer at the Builders Initiative (BI). At BI, Walter works with a portfolio around farmed animal welfare and arts. Prior to BI, Walter served as a Program and Grants Associate for the McKnight Foundation's Collaborative Crop Research Program. In that role, Walter helped fund regionally based research projects in Africa and South America. Additionally, he serves on the board of Comunidades Organizando el Poder y la Acción Latina (COPAL). Walter is a Salvadoran immigrant living in Chicago. In his free time, he enjoys biking, cooking, camping, and organizing.
Chris Audain
Originally from Nashville, TN, Chris is an artist at heart, arts administrator, singer, humanist, and advocate. He currently is Managing Director, Arts Initiative at the University of Michigan. Chris previously served as Program Officer at Alphawood Foundation, and has worked at the Art Institute of Chicago, and the Logan Center for the Arts at the University of Chicago. He received his BA in Political Science from Kenyon College with a minor in Music (2008), and his Master of Arts in Arts Administration from Goucher College (2014), where his thesis focused on advocacy strategies for increasing public funding to the arts, particularly, the National Endowment for the Arts. He has also served as Chairman of the board for Congo Square Theatre Company. Chris believes that if we fully support and embrace the arts we can discover a pathway for a radically better future, together.
D'onminique Boyd
For the past 15 years, D'onminique Boyd has contributed to the field of dance in varying roles as a performer, educator, healer, community member and arts administrator. Most notably, she danced professionally with Kotchegna Ivory Coast Company, the Howard University Marching Band, studied with the Urban Bush Women in the Summer Leadership Institute, appeared in the ovie Step Up and worked as a dance facilitator at El Puente Academy of Peace and Justice.
In 2016, she was awarded the Legacy Continues award by the Katherine Dunham Museum for her commitment to sharing the importance of Miss Dunham's legacy. She has worked internationally studying traditional South African dances as a Baldwin Artist in Residence and locally with students on the Autism Spectrum as an Adaptive Dance Assistant at Lou Conte Dance Studio in Chicago. Currently, D'onminique lives on Chicago's South Side where she works with a creative community of teachers, artists, families and students helping to build the next generation of artists, creative thinkers and arts advocates as the Assistant Director of Education and Family Programs at the Logan Center for the Arts.
Noemi Garcia
Noemi Garcia is passionate about strengthening organizations, creating opportunities for social impact, and advancing more equitable practices in the nonprofit sector. She's currently an independent consultant working with local foundations and nonprofit organizations. Noemi previously led the management consulting and board governance training programs at the Arts & Business Council of Chicago (A&BC). During her tenure at A&BC, she worked closely with small and midsize arts and cultural organizations across the city. Noemi is the Vice Chair of the Snow City Arts Auxiliary Board and a member of the Women of Color United Giving Council through the Chicago Foundation for Women.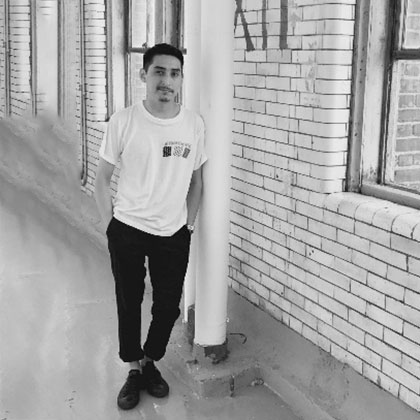 John H. Guevara
John H. Guevara (b. 1992, Newark, NJ, USA) is an art organizer and curator raised and based in Chicago. They hold an Associate in Arts from Harold Washington City College of Chicago '15 and a Bachelors in Arts Management from Columbia College Chicago '17. They are the founder and director of Chuquimarca, an art library in Chicago. Chuquimarca.com / @chuquimarca.projects.
Mia Khimm
Mia Khimm is Culture Program Director of The Joyce Foundation, a nonpartisan private foundation that invests in public policies and strategies to advance racial equity and economic mobility for the next generation in the Great Lakes region. In this role, she collaborates with community leaders and other partners throughout Chicago and the Great Lakes region to advance The Foundation's culture grant making strategy, anchored in support organizations and artists of color
Khimm has more than a decade of experience across the nonprofit, philanthropic, academic, and commercial arts sectors. She was previously Managing Director at EXPO CHICAGO, an annual exposition featuring leading international galleries of contemporary and modern art. She has held roles at the Smart Museum of Art at the University of Chicago, the Graham Foundation for Advanced Studies in the Fine Arts, and the Art Institute of Chicago. A New York native, Khimm has a master's degree in Art History from the University of Chicago and a bachelor's from Wesleyan University in Connecticut.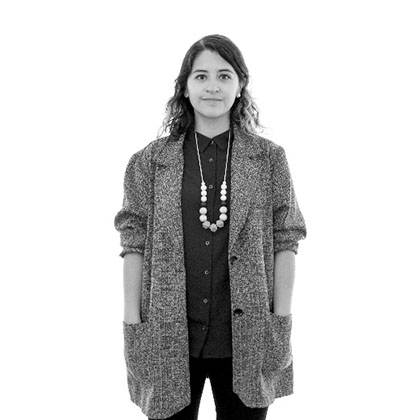 Lynnette Miranda
Lynnette Miranda, Program Director at United States Artists, studies the economy of individual artists and is committed to the well-being of our country's makers. Originally from Miami, she fell in love with the Midwest while studying at the School of the Art Institute of Chicago, where she received a BFA in Fiber and Material Studies. After earning an MA in Visual Arts Administration at New York University, she worked at various artist-centered organizations including ART21 and Creative Time, where she coordinated the 2015 conference The Creative Time Summit: The Curriculum at the Venice Biennale. Presently, she is on the Board of Directors at ACRE Residency, a non-profit organization based in Chicago designed to support emerging artists across the country. She is an incoming Neubauer Civic Scholar at the University of Chicago, where she will be pursuing an MBA.
Himabindu Poroori
Bindu Poroori (she/they) has called Chicago home since 2011, but is originally from sweet sweltering Chennai. These days, she is working with the Illinois Federation of Teachers, Apna Ghar, and Chicago Desi Youth Rising as an organizer, curator, researcher, and consultant. In their spare time, Bindu is a poet and musician. She is committed to the abolition of prisons, punishment, policing, and imperialism, in their personal life and in the world.
Encarnación Teruel
Encarnación Teruel, is the Deputy Director & Chief of Staff at the Illinois Arts Council Agency. Prior to his appointment, he was a Program Director for fifteen years overseeing grant programs for Regional arts organizations, Media Arts, Visual Arts, Local Arts Agencies, Art Service Organizations, Individual Artists and the Artist Fellowship Awards. During that time, he was also the ADA/504 Access Coordinator at the Arts Council.
His work includes establishing the Performing Arts Department at the National Museum of Mexican Art and being the first Performing Arts Director at the Field Museum of Natural History. Additionally, he served as the Senior Cultural Arts Officer for the Chicago Park District where he initiated cultural arts programs on a citywide basis.
Mr. Teruel has served on numerous advisory boards, panels, committees and initiatives for cultural arts organizations and foundations. He is currently serving on the Advisory Committee for Arts Midwest's United States Regional Arts Resilience Fund, is Co-Chair of the People of Color Affinity Group for the National Assemble of State Arts Agencies and is an active member of the Chicago Latinos in Philanthropy. He is an avid cyclist, and yoga enthusiast.
Camille Wilson White
Camille formerly served on the Oak Park Area Arts Council's Board as Board President prior to becoming the Executive Director. She worked as a retail store manager for Marshall Field's, Chas. A. Stevens, The Gap and Sears, Roebuck & Co. At Field's, she was the chairman of the State Street Diversity Council representing 3,000 employees.
Camille is actively involved in the Oak Park community and has served on numerous committees for both District 97 elementary and District 200 Oak Park & River Forest High School. She has also worked with many organizations and political campaigns in the village. She is the proud recipient of the 1999 Athena Award for exceptional business and professional achievement, leadership and service to community and for assistance given to professional women. In May of 2008, she was the first recipient of Chicago a cappella's prestigious Friend of the Year Award, for lasting dedication to access to the arts for all. In February 2012, she was honored by the Park District of Oak Park with the Illinois Parks Leadership Award for significant contributions to the community. She is active with LAN(Local Arts Network) and serves as co-chair of the LAN Council. LAN is a collaboration of Executive Directors in Illinois who work to strengthen and broaden the awareness of the arts in their communities. She serves on the board of the Arts Alliance Illinois. Camille was appointed by the Americans for the Arts as a member at large to the United States Urban Arts Federation.
Meet the Grantees