Think Explore Share Panelists
The Arts Work Fund
For the Spring cycle of Think Explore Share grants, AWF gathered a dynamic group of experienced practitioners, administrators, and culture workers to review the proposals.
---
Libia Bianibi
Libia Bianibi (she/her) is a Zapotec immigrant from Juchitan, Oaxaca living in Chicago since 2016. As an arts & culture worker, she focuses on fostering racial equity, cultural exchange, and economic justice to contribute to the broader transformation of the creative sector. Libia is currently the Deputy Director of Internal Affairs at Arts Alliance Illinois and one of the Programming Directors for the Lit & Luz Festival. She currently serves on the Board of Directors of Chicago United for Equity and Enrich Chicago, as well as on Mayor Lightfoot's Equity Advisory Council and We Will Chicago's Advisory Council. Libia lives in Ravenswood with her wife Kierstin and their rescue dog, Lily.
Jessica Ferrer
Jessica Ferrer is a Program Manager at United States Artists. In this role, Jessica co- administers USA's annual Fellowship program and co-edits its digital publication New Suns. She holds a BA in English and Studio Art from Kenyon College and has previously worked in education and nonprofits around Chicago to develop and teach curriculum for K-12 students. Jessica is also an artist who explores forms of tacit knowledge through weaving, text, video, and sound. Her work has been shown in a few galleries and one library, but mostly lives in the homes of friends, family, and acquaintances. Currently, she is a 2022-2023 HATCH Resident atthe Chicago Artists Coalition.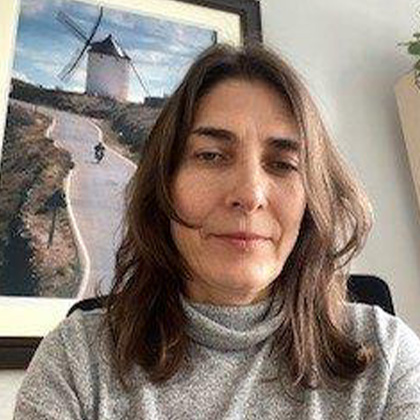 Teresa Hernando
Cultural Programs Curator Teresa Hernando, a Spanish native, has been with the Instituto Cervantes of Chicago since September 2002. She oversees cultural programming, communications, design, development and production, community outreach, funding, and volunteers. In addition, she facilitates connections and collaborations with various arts and cultural sectors between Chicago and Hispanic-speaking countries, taking an open- minded approach to sharing the best of the international arts with local audiences.
Since 2003, she has organized and curated The Chicago Flamenco Festival, an annual event, which has grown from a 3-day event to 5-weeks under her direction. She sits on numerous grant committees and advisory boards, such as the Chicago International Voices Project, which debuts voices from the world's stages through commissions, translations, and production. Teresa holds a B.A. in Business Administration and Tourism, and an M.A. in Cultural Management from the University of Alcalá, Spain.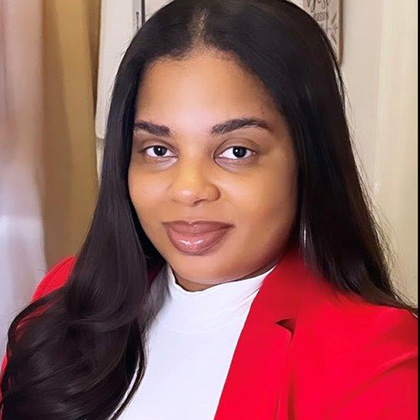 Ebony Howard
Ebony D. Howard is a Program Manager at The ELMA Philanthropies Services, (U.S.) Inc. She supports the management of the grants portfolio of The ELMA Music Foundation, and in particular supports investments in the U.S., which use music programming to advance youth development.
Ebony devotes her spare time to A Queen Movement, a non-profit organization she founded in hopes of sharing her truth, promoting community advocacy, outreach, mentorship, and free activities to the youth in Jersey City, NJ.
Ebony holds a BSBA with a minor in Social Justice from Saint Peter's University and an MBA from Rutgers University.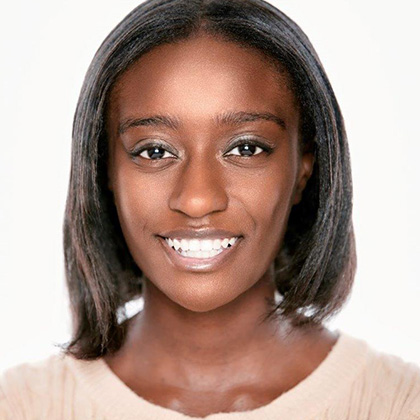 India Pierre Ingam
India Pierre-Ingram is a storyteller through various mediums, mother, and arts administrator. She currently serves as the Grant Operations and Racial Equity Initiatives Manager for Cuyahoga Arts and Culture. India is passionate about using art for social change and liberation.
India was one of the inaugural fellows for the Americans for the Arts' Arts & Culture Leaders of Color Fellowship. She has also had the opportunity to perform at Karamu House, Cleveland Public Theatre, Dobama Theatre, and Playhouse Square. She received her bachelor's degree in English with a concentration in Creative Writing and a minor in History from Wells College. She is currently a Master in Fine Arts candidate at Prescott College.
Daris Jasper
Daris Jasper is a Chicago-based photographer. Moments of ritual, legacy, and spirituality are all explored within his work. Daris's lived experiences and memories are woven together; his work highlights moments of celebration, often interplaying with an ephemeral sense of foreboding through his use of subject and light. Daris's camera acts as a witness to the customs and traditions of cultural lifestyles of marginalized and underrepresented individuals and groups in society. For Daris, the camera provides a means to serve as an activist for social justice, documenting pressing issues to bring awareness to subjects that interest and affect him personally.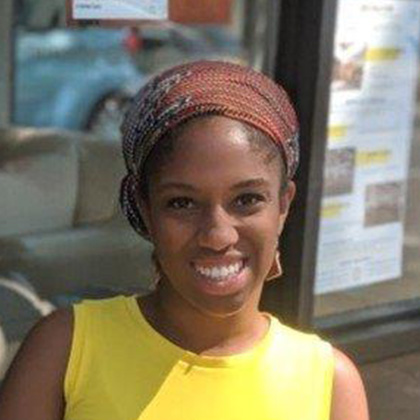 Kerri Malone
Kerri Malone is a native Illinoisian whose professional background combines community development, research, program management, and grantmaking. Kerri began her career as an Arts Coordinator for the Mayor's Office at the City of Elgin, IL. She went on to join Lloyd A. Fry Foundation as an Arts Learning Program Officer, where she managed the foundation's arts education grantmaking. Kerri then worked at the UrbanArt Commission in Memphis, TN, collaborating with artists and community groups to successfully launch new neighborhood-based public art programs. Currently, she is the Director of Partnerships for Epicenter Memphis, leading partnership strategy and development.
Kerri has a Master's from the University of Chicago, where she studied cultural policy and completed research with the Smithsonian Institution's Provenance Research Center. She has authored several articles for the Digest, a quarterly publication by the University's Cultural Policy Center, reporting on trends in arts research. Kerri received a Bachelor's degree from the University of Illinois Urbana-Champaign in Urban and Regional Planning. She has volunteered with arts organizations in Illinois, Memphis, and Finland.
Michelle Ruiz
Michelle Ruiz is the Latinx Visibility Program Coordinator for the United States Latinx Art Forum(USLAF), which is an organization that champions artists and arts professionals engaged in research, studio practice, pedagogy, and writing. USLAF generates and supports initiatives that advance the vitality of Latinx art through an intergenerational network that spans academia, artinstitutions, and collections. Prior to joining USLAF, Ruiz was a project manager for Chicago Art Source, where she specialized in curating art collections for market segments such as healthcare, corporate, hospitality, and residential, cultivating a national network within the fine arts field. Ruiz worked closely with art consultants, collectors, and interior designers curating art collections for their spaces.
Equally important to Ruiz is civic engagement through the arts, board service, arts equity, and social justice. She is an advocate for the arts and promotes cultural inclusivity through grassroots art programming and local non-profit involvement. She currently serves as the Curatorial Director and Board Member for the Berwyn Public Art Initiative. This community-driven effort brings businesses, property owners, artists, and community organizations togetherto install murals, sculptures, and pop-up galleries in the Berwyn area. Ruiz is based in Chicago and holds a BA from Columbia College Chicago with a concentrationin Visual Arts Management.
Urooj Shakteel
Urooj Shakeel has extensive experience in communications, project management, and cultural art production. As Communications Manager for South Asia Institute, she managed social media platforms, produced arts programming, and curated exhibitions to promote the arts and cultures of South Asia and its diaspora. Urooj served as a Communications Fellow for the Field Foundation, where she created effective communications strategies for online visibility of the Foundation's grantmaking work. She reviewed grants in Field's Media & Storytelling portfolio and expanded the portfolio's reach by securing arts organizations. Urooj was also the Project Manager for Arts Work Fund's COVID-19 Emergency Relief Fund, where she managed the application process and a team of grant reviewers.
Urooj is originally from Detroit, MI and holds a BS in Marketing and BA in Art History from Wayne State University. She has a MA in Arts Administration and Policy from the School of the Art Institute of Chicago.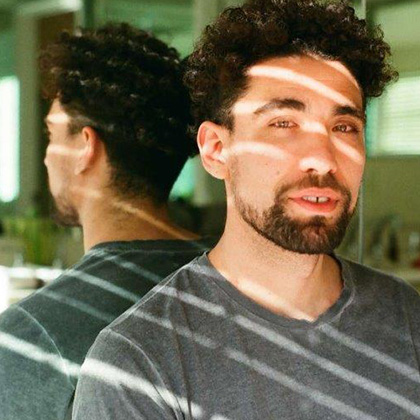 Devon VanHouten-Maldonado
Devon VanHouten-Maldonado is Director of Programs at SkyART, a nonprofit providing free art programs and art therapy for youth on Chicago's South and West Sides. SkyART programs reach more than 3,500 children every year through studio spaces in South Chicago and Humboldt Park, schools, and youth detention facilities. Devon first began doing art programs with incarcerated youth in 2010, before moving to Mexico City and working as a journalist until 2018. His writings have been published online and in print for Frieze, Flash Art, the BBC, Hyperallergic, and Even Magazine, among many others.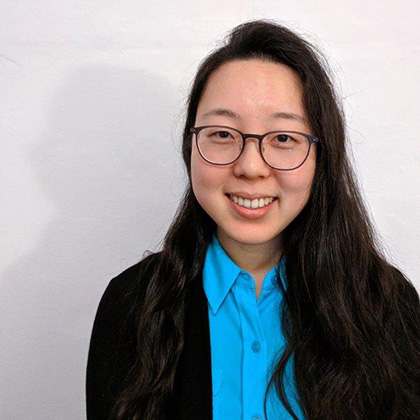 Jenn Yoo
Jenn Yoo is currently the Program Operations Manager at Illinois Humanities, where she works on data analysis, operations, and procedures for all grants and program areas. Illinois Humanities has nine program areas and four grant opportunities, which range from community-based youth programs to statewide grants to humanities organizations.
Jenn has an M.A. in Arts Education from the School of the Art Institute of Chicago and a B.A. in Fine Arts from the University of Southern California. She has experience using data to better understand and increase opportunities for education-related audiences and developing internal and external strategies at various organizations. She also serves as a grant reader for Ingenuity's Creative Schools Fund, where she previously served as a data and research team member. Before moving to Chicago, Jenn taught art and math for Kindergarten-through-college-aged students outside of school settings and supported educators through strategic planning and curriculum development.
Latham Zearfoss
Latham Zearfoss works in Chicago, where they produce time-based images, objects, and experiences about selfhood and otherness. Outside of the studio, they contribute to collective motions toward joy and reflection through social projects such as a queer dance party (Chances Dances), a critical space for white allyship (Make Yourself Useful), an itinerant conference on socially-engaged art (Open Engagement). Latham also collaborates with their neighbors on McKinley Park Mutual Aid. Latham graduated from The School of the Art Institute of Chicago with a BFA in 2008 and the University of Illinois at Chicago with an MFA in 2011. They have exhibited their work, screened their videos, and DJed internationally and all over the U.S.
Meet the Grantees