Think Explore Share Panelists
The Arts Work Fund
For the Winter cycle of Think Explore Share grants, AWF gathered a dynamic group of experienced practitioners, administrators, and culture workers to review the proposals.
---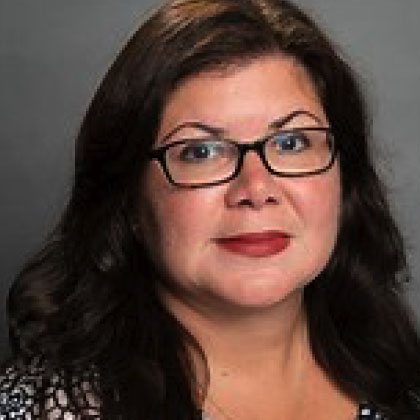 Sandra Aponte
Sandra is program manager of community impact for The Chicago Community Trust. In this role, she manages the Trust's strategic efforts in strengthening the social impact sector. Her portfolio also includes support for culture and creativity. Sandra leads the SMART Growth program, an evidence-based capacity building program. Sandra brings over 15 years of experience working in the arts and education field. Prior to joining the Trust, she was the school partnerships and programs manager at The Field Museum. From 2006 to 2009, Sandra participated in the Fellowship in Arts and Culture Management program by The Chicago Community Trust—a highly selective, rigorous initiative that provided leadership experience through residencies at some of the most renowned cultural institutions throughout the city. Sandra's professional experience also includes serving as the development manager for the Puerto Rican Arts Alliance, program manager for the Teachers Academy for Mathematics and Science, and an art gallery business manager. Sandra has a master's degree in business with a concentration in international business from DePaul University and a bachelor's degree in marketing from The Fashion Institute of Technology. Aponte is co-chair of the Arts Work Fund and serves as board member of the National Association of Latino Arts and Cultures.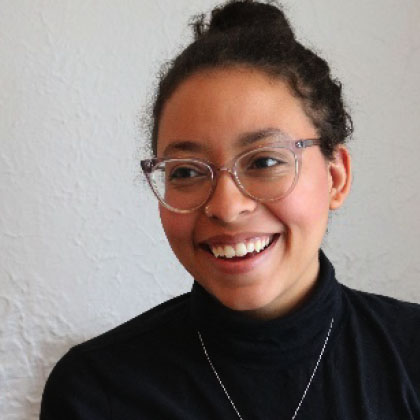 Mesha Arant
Mesha (she/her/hers) is a Chicago-based musician and arts administrator. She is the Manager of Administration & Programs at 3Arts, a nonprofit arts organization that advocates for women artists, artists of color, and D/deaf and disabled artists. She also serves as the organization's accessibility coordinator, assuring that all communications and programs are accessible to their constituents.
Mesha was selected for a 2019 Interfaith Innovation Fellowship, a fellowship awarded to five people who are poised to cultivate ideas and projects that creatively address social issues through an interfaith lens. In 2020, she was selected for the Leaders of Color (ACLC) Fellowship through Americans for the Arts.
Mesha is a singer-songwriter; her music is situated somewhere between folk and soul, the music she grew up listening to. Her finger-picking style and striking voice have been described as "hauntingly beautiful." She received her B.A. from Wofford College in 2012 and a Master of Divinity from Yale University in 2015. She is currently a board member at Sustain Music & Nature.
Jose Luis Benavides
Jose Luis Benavides is a Latinx and queer video artist, photographer and lecturer at Wilbur Wright College - City Colleges of Chicago. Born-and-raised in Chicago, in the Logan Square neighborhood, he works primarily with a range of personal archives. His videos explore issues relating to gender and sexuality, cultural erasure, migration, and institutionalized violence. His work has featured and exhibited at Reeling: The Chicago LGBTQ+ International Film Festival, US (2020), Full Spectrum Features' Chicago Cinema Exchange: Mexico City (2020), Onion City: Experimental Film and Video Festival, Chicago, US (2020), MSU Latinx Film Festival, Lansing, US (2020), Revolutions Per Minute Festival, University of Massachusetts Boston, US (2020), CinHomo - Muestra Internacional de Cine y Diversidad Sexual LGBTI, Valladolid, ES (2019), Cadence Video Poetry Festival, Seattle, US (2019), and HOMOGRAPHY, Brussels, BE (2019), Terremoto - La Postal, Mexico City, MX (2018), and Qalandiya International, Ramallah, PS (2018). Benavides also founded an ongoing video art screening program, Sin Cinta Previa: Latinx & Queer Archive Video Series, for which he was awarded a Hyde Park Arts Center - Artists Run Chicago 2.0 grant, (2021), a Propeller Fund grant (2019), and POWER Project grant from the Art Leaders of Color Network (2018).
Christopher Chantson
As Vice President, Institutional Advancement, Christopher is responsible for leading fundraising and alumni engagement strategies that support National Louis University's mission of providing educational opportunities that inspire and empower all learners as they prepare for and advance in meaningful lives and productive careers. Prior to NLU, Christopher was Director of Development at Ingenuity, where he led fundraising, board relations and financial operations to support the organization's work of increasing arts education access, quality and equity in Chicago Public Schools. He previously held development positions at Start Early, Thresholds and The Chicago Chamber Musicians. Christopher is a member of the Board of Directors for the Association of Fundraising Professionals (AFP) Chicago, and Co-Chair of the Peer Mentoring Committee, which connects early-career and more-experienced development professionals to learn and growth together. He holds Bachelor's and Master's degrees in Music Performance from McGill University and DePaul University, respectively, and a Bachelor of Arts in English Literature, also from McGill.
Max Guy
Max is Manager of Institutional Giving at Hyde Park Art Center. Previously, Guy worked as Research Assistant and Grant Writer at the Renaissance Society, and was a 2020 Annual Fellow of the Development Leadership Consortium. He received his BFA in 2011 from Maryland Institute College of Art, Baltimore; and MFA in 2016 from Northwestern University, Evanston. He has exhibited at the Krannert Museum of Art, Urbana-Champaign; MCA Chicago, Prairie Gallery, Produce Model, and Chicago Cultural Center, Chicago; Malmö Museum of Art, What Pipeline, Detroit; and Galeria Federico Vavassori, Milan. Publications include NewCity, the Chicago Reader, the Chicago Tribune, Hyperallergic, and Artforum. His bibliography includes 'Sustainable Societies for the Future,' on Motto Books. He lives in Chicago, IL.
Chris Guzaitis
Chris is Senior Director at Illinois Humanities, the nonprofit state affiliate of the National Endowment for the Humanities. Prior to assuming this role, Chris directed The Odyssey Project, a free college-credit earning program in the humanities for adults who have had limited access to college, at Illinois Humanities from 2015-2018. Before joining Illinois Humanities, Chris was an assistant professor of Queer Studies in the Gender, Feminist, and Sexuality Studies Department at Scripps College and had also taught courses at California Institution for Women, Claremont Graduate University, Pomona College, and the University of California, San Diego. She holds degrees in Feminist Studies, Gender and Women's Studies, and Literature/Cultural Studies.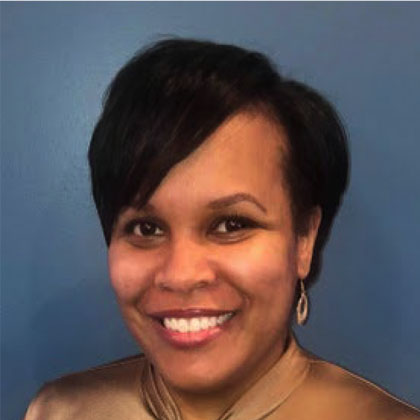 Akilah Halley
As a Chicago native inspired by the city's vibrancy, Akilah is committed to social change through human-centered strategies for youth and community development. She has spent 15 years focused on equitable approaches to helping make Chicago a better place for all people to thrive through art, education, and philanthropy. Currently, Akilah is the Executive Director of Marwen which inspires young people to nurture their growth and build their futures through art and community. She previously led communications with Crown Family Philanthropies, marketing with Urban Gateways and external affairs with Chicago Public Schools. Akilah is a member of Chicago's Cultural Advisory Council and the Art Institute of Chicago's Leadership Advisory Committee. She is an alum of the Sorkin Center Children and Youth Leadership Program and National Arts Strategies Chief Executive Program. Akilah served on Mayor Lori Lightfoot's Arts and Culture Transition Committee and is a former co-chair of Chicago African Americans in Philanthropy. She holds a master's in Design Planning from Illinois Institute of Technology's Institute of Design and a bachelor's in Industrial Design from the University of Illinois at Urbana-Champaign.
Mashaune Hardy
A lifelong Chicagoan, Mashaune has deep ties to Chicago's vibrant arts community. With more than 20 years of experience in dance, information technology, marketing, and arts administration; she sits at the intersection of process and performance. Mashaune produces concerts, conferences, and performances; has danced with Seneke West African Percussion Ensemble, Muntu Dance Theatre of Chicago, and Ayodele Drum and Dance; and has developed social media strategies for several artists and arts organizations including the Jazz Institute of Chicago. Currently, she is the Business Manager at Ayodele Drum and Dance, Social Media Manager at the Jazz Institute of Chicago, Manager of jazz vocalist Dee Alexander, and Assistant Director of Community Arts Partnership and Strategy at the Reva and David Logan Center for the Arts.
In addition to her work in the arts, Mashaune has led technology projects as a Senior Systems Analyst at Electronic Data Systems (EDS) and Hewlett Packard (HP). Mashaune received a Bachelor of Science in Advertising from the University of Illinois at Urbana-Champaign.
Aya Nimer
Aya is a Program Manager at Pillars Fund, where she works on developing culture change programming that advances Pillars' mission of changing narratives around Muslims in the U.S. Her programmatic work builds on interdisciplinary artistic and scholarly approaches to care, community building, and culture change. Aya brings these approaches to her work on the Muslim Narrative Change Fellowship, the Pillars Artist Fellowship, and the Pillars Muslim Artist Database and is committed to building artist-centered programming. Prior to joining Pillars, she worked at the Museum of Contemporary Art, Chicago, where she coordinated the development of strategic planning, budgeting, and exhibition production.
Aya earned her bachelor's degree from The University of Chicago in an interdisciplinary program focused on social theory in philosophy and allied fields. She holds a master's degree in Humanities with a concentration in the Social History of Art. Her thesis on the Genealogy of Pharaonic Iconography traced the history of Egyptian visual culture from 1920 to 1962, documenting the use of pharaonic imagery as political symbolism. Aya is interested in the way art shapes our self- understanding and believes that in telling our stories we reclaim the ability to make meaning for ourselves in society.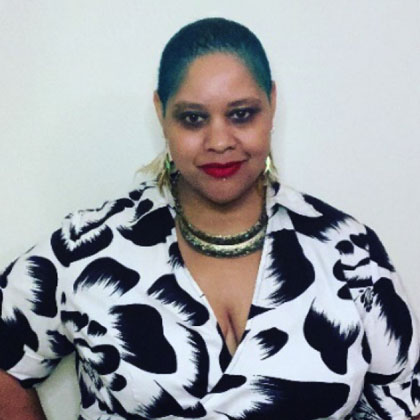 Nikki Patin
Featured in The Guardian, Chicago Tribune, HBO's Def Poetry Jam and on international television and radio, writer, producer, designer and survivor Nikki Patin has been advocating, performing and educating for 20 years. She has performed at the National Black Theater in Harlem, Brooklyn Museum, the Goodman Theater, EXPO Chicago and many other spaces throughout the U.S., New Zealand and Australia. In 2014, she made history when she addressed the United Nations in Geneva, Switzerland on behalf of Black women survivors of sexual violence in the U.S.
Nikki Patin holds an MFA in Creative Non-Fiction from the University of Southern Maine. Patin is the Community Engagement Director for the Chicago Alliance Against Sexual Exploitation and the founder and Executive Producer of Surviving the Mic, a survivor-led organization that crafts brave and affirming space for survivors of sexual trauma. Her work can be found at nikkipatin.com.
Ellen Placey Wadey
Ellen joined the Gaylord and Dorothy Donnelley Foundation (GDDF) in 2013. She was executive director of the Guild Complex – a literary arts organization – for seven years and in that time built the Guild's impressive artistic accomplishments on a firm foundation of organizational development. Before that, Ellen was the director of marketing and development for the Marwen Foundation.
Before joining GDDF, she was an independent consultant focusing on small arts organizations including the Chicago Cultural Alliance and the Ragdale Foundation. She has reviewed arts proposals on behalf of Prince Charitable Trust and served as a jurist or panelist for the Cuyahoga Community Partnership for Arts and Culture, Illinois Arts Council, Kentucky Foundation for Women, Rasmussen Foundation, Third Coast Festival New Audio Competition, and United States Artists.
She is currently the co-chair of the Arts Work Fund. Ellen has M.A. in fiction writing from the University of Illinois-Chicago and an M.F.A. in fiction writing from the University of Pittsburgh. She is the recipient of the Scott Turow Fiction Prize and has been nominated for a Pushcart Prize. For ten years, she co-produced Prosody, a radio show interviewing poets and writers, for the National Public Radio outlet in Pittsburgh.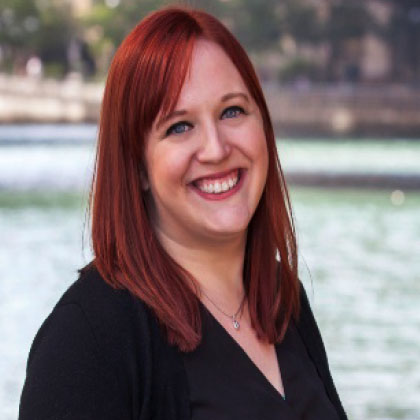 Meghan Zimmerman
Meghan is the Program Officer and Director of Product Strategy at the Thierer Family Foundation, a Chicago-based family foundation focused on helping nonprofits leverage technology in order to be more effective, efficient, and sustainable. As the Program Officer, Meghan is responsible for managing the giving of the foundation and working with grantees to make sure they are successful. Additionally, Meghan also leads the product innovation and strategy of special projects at the Thierer Family Foundation.
Prior to that, Meghan was the Director of Marketing at Revenew, the leading through-channel marketing automation technology, before its merger with Aprimo.
Meghan is also the co-owner of Ellipsis Coffeehouse, a specialty coffeeshop in the Edgewater neighborhood of Chicago, and Zimmermakers, a maker duo specializing in custom furniture and home décor. Meghan holds a master's degree in Integrated Marketing Communications from Northwestern University, a bachelor's degree in Public Relations from SUNY Fredonia and a certificate in Nonprofit Management from Northwestern University.
Meet the Grantees