Think Explore Share Panelists
The Arts Work Fund
For the Winter cycle of Think Explore Share grants, AWF gathered a dynamic group of experienced practitioners, administrators, and culture workers to review the proposals.
---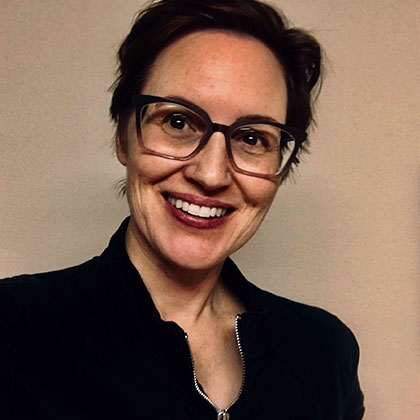 Megan Carney
Megan is the Artistic Director of About Face Theater, a company dedicated to advancing LGBTQ+ equity through community building, education, and performance.
Her work as a director and playwright has premiered in Chicago, New York, and through touring productions. She has worked extensively as a teaching artist in many different settings and served as the Director of the Gender and Sexuality Center at the University of Illinois at Chicago, where she created and produced cultural programming and advanced affirming policies. Megan has volunteered with the Chicago Foundation for Women's LGBT Giving Council, the Chicago Restroom Access Project of Pride Action Tank, and other organizations. Her work has been featured in various publications and recognized with theatre industry awards as well as the GLSEN Pathfinder Award, an APA Presidential Citation, and induction in Chicago's LGBT Hall of Fame.
Megan's MFA in Theatre Arts from Virginia Tech included a focus on Directing and Public Dialogue.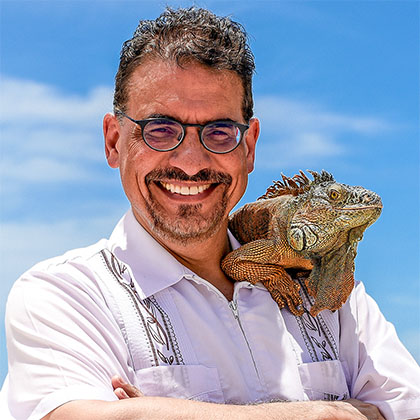 Juan Díes
Juan is an active musician and co-founder of Sones de México Ensemble, a two-time GRAMMY® nominated performing arts organization established in 1994 to perform, record, teach and promote Mexico's rich heritage of folk music and dance traditions. Juan holds an M.A. in folklore/ethnomusicology from Indiana University and has devoted his professional life to presenting, researching, advocating, teaching and performing traditional music and culture. Juan Dies is an Earlham College Distinguished Alumnus and a United States Artists 2019 Fellow.
Allyson Esposito
Allyson is a systems builder, arts advocate, lawyer, and artist, with more than 15 years of change management experience in the philanthropic sector. She presently serves as the Senior Program Officer, Arts, for Chicago's Builders Initiative. Most recently, she was the Founding President & CEO of Creative Arkansas Community Hub & Exchange, the first organization of its kind in the mid-South, connecting family philanthropies, municipalities, corporations, and individuals with equitable investment opportunities (for- and non-profit) across the region's diverse creative communities.
Previously, she served as Senior Director of Arts and Culture Program for the Boston Foundation, creating and implementing the Foundation's new arts strategy, served as Director of Cultural Grants for the City of Chicago's DCASE, leading the first restructure of the Cultural Grants program in more than 20 years. She came to the City after nearly a decade of consulting with Deloitte & Touche and from supporting the Mayer & Morris Kaplan Family Foundation in restructuring its operations and giving to include next generations and new geographies.
Allyson is a lifelong dancer/choreographer who founded and led Chicago-based company The Space Movement Project from 2004-2015, co-creating original evening-length works, touring nationally and internationally, and co-managing former artist-led hub, Outer Space. She has danced with tens of other companies and choreographers in Chicago and beyond and continues to perform into her mid-40s.
Carlos Flores
Carlos Flores (b. 1992 Guadalajara, Mexico) is an uncategorized artist, community organizer, curator, and arts administrator based in Archer Heights. He received his BFA from UIC in 2016 and has since received recognition and awards, including 3Arts, United States Artists, The Luminarts Cultural Foundation, and the National Association of Latino Arts and Cultures. Past exhibitions include the Hyde Park Art Center, Heaven Gallery, Mana Contemporary, and the National Museum of Mexican Art. His work is informed by his experiences as a queer Latinx immigrant on the Southwest Side of Chicago and brings viewers face-to-face with issues of environmental racism, displacement, gender, and race.
Separate from his visual arts practice, Carlos co-runs Chicago Art Department, a community art center in Pilsen. CAD offers residencies for twenty civically-minded artists and over 100+ free programs and exhibitions to the community annually. In 2021 Carlos launched Contra Corriente, an annual festival and series of exhibitions that highlights the work of artists, activists, and organizations working to advance racial and environmental justice on the Southwest Side of Chicago. Contra Corriente aims to empower community organizers and activists to identify as social practice artists and create space for artists of color to grow and create community around environmental justice issues.
LaDonna Freidheim
Ladonna Freidheim, founder of ReinventAbility, is passionate about inclusion, dance, science, and joy! She is a formally trained dancer, experienced arts administrator, and an expert in adaptation and disability inclusion.
Ladonna grew up dancing. After a degenerative disability ended her ballerina life, she recovered from surgeries with paralympic athletes who introduced her to disability culture. With the aid of braces and a cane she is able to navigate the world most of the time, but it is Ladonna's wheelchair that has restored her dancer's soul. A master's degree contributes considerable expertise to her work adapting choreography and promoting inclusion.
In 2006 Ladonna joined Dance>Detour, the first performance company in Chicago that was inclusive of people with disabilities. She currently performs with the MOMENTA Dance Company. Ladonna has been nominated for 3Arts Awards in dance and education, is a Make A Wave recipient, has been appointed to dance panels by AWF and by the National Endowment For The Arts, serves on the See Chicago Dance Board of Directors and the Chicago ArtsEd Leadership Committee.
Marcela Andrade Serment
Marcela is Operations Strategist at Monuments to Movements (M2M), an independent curator, writer, and arts administrator. She most recently served as Associate Curator for the exhibition Frida Kahlo: Timeless at the Cleve Carney Museum of Art. Her research interests include modern and contemporary art, U.S. Latinx art, Latin American art, feminism, social practice, public art, the history and theory of curatorial practice, arts advocacy, and cultural policy.
Marcela holds a BA from Dominican University and an MA in Arts Management from Columbia College Chicago. In 2009, she was an Andrew W. Mellon Fellow at the Summer Institute for Art Museum Studies at Smith College.
Photo: Marcela Andrade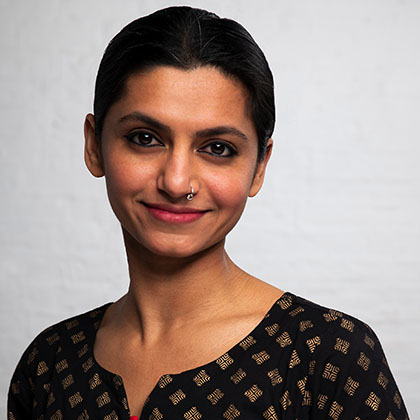 Kinnari Vora
Kinnari is a Chicago-based movement artist and educator. She shares stories of universal human conditions and emotions through movement, meditation, and theatrical practices. She was born and raised in India. Being a physical therapist and a yoga practitioner, she integrates healing practices in her dancemaking.
Kinnari is co-founder and artistic co-chair of Ishti Collective, a dancer collaborator with Surabhi Ensemble. She serves on the curatorial board at the Ragdale Foundation. Her works have been presented at The Art Institute of Chicago, Detroit Dance City Festival, Pivot Arts Festival, Ragdale Foundation, World Music Festival, and Elevate Chicago, among others. She has toured internationally to Mexico, Vietnam, Spain, Portugal, Italy, Israel, and Poland.
She is a 2022 Chicago Dancemakers Lab Artist and a 2022 resident artist at High Concept Labs, Chicago.
Teresa Silva
Teresa Silva is a writer, curator, and member of Tiger Strikes Asteroid, a non-profit network of artist-run spaces. Her writings have appeared in Obsidian: Literature & Arts in the Black Diaspora and Left Coast Press Inc. Her recent exhibitions have been presented at Mana Contemporary, Chicago Cultural Center, and 6018North; the exhibitions were featured by WBEZ 91.5, the Chicago Tribune, the Chicago Reader, and Newcity Chicago.
In 2017, Silva was a Diversity + Leadership Fellow with the Artist Communities Alliance. In 2018, she was an Artist-in-Residence at The Rauschenberg Residency on Captiva, and in 2020, a visual arts panelist for the National Endowment for the Arts. In 2022, Teresa was listed at #5 in Newcity's Art 50: Chicago's Visual Vanguard for her contributions to the city's visual art culture. She sits on the Board of Directors for Heaven Gallery, Chicago.
Prior to 2023, Silva was the Executive and Artistic Director of the Chicago Artists Coalition, where she created supportive spaces for artists to advance their creativity by connecting with leading art professionals and audiences through presentation and dialogue.
Meet the Grantees