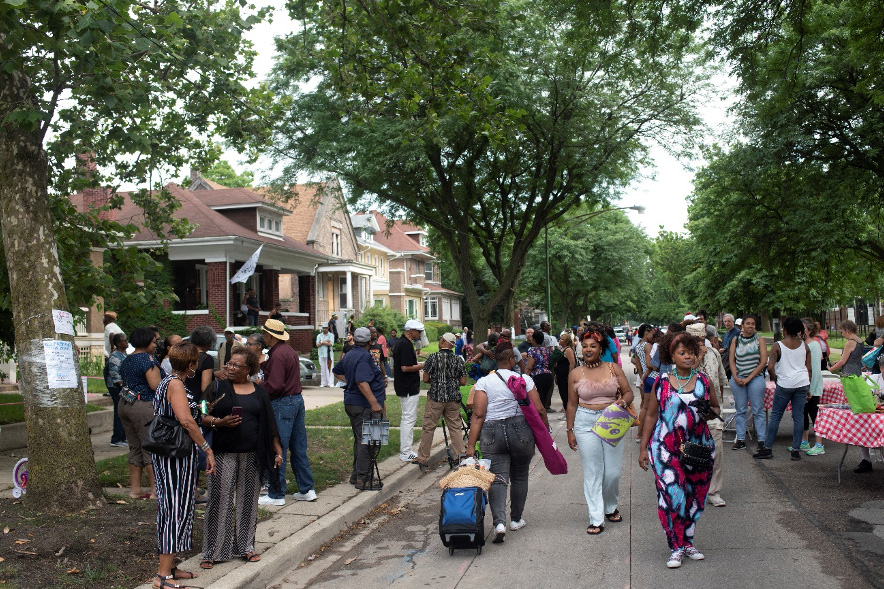 Hyde Park Jazz Festival, photo: Mark Monaghan
Think Grants
Think grants give arts organizations the time and space to think through a question, analyze challenges and opportunities, and develop plans or small tests of change.
---
Artist strategic planning workshop, image courtesy of 3Arts
3Arts
With a mission focused on gender, racial, and disability equity, 3Arts supports Chicago's women artists, artists of color, and Deaf and disabled artists working in the performing, teaching, and visual arts. The grant will support the development of a new artist mentorship program. The hope is that it grows into a robust platform facilitating meaningful connections with artists across and within disciplines, sharing skills and ideas, and generating mutual support.
Learn more...
---
Haitian American Museum
The Haitian American Museum of Chicago (HAMOC) showcases Haitian art, culture, and history. The museum wants to reevaluate and restart its in-person programming and provide an elevated Haitian experience to its guests. The grant will allow the Museum to explore new ways of engaging the community by combining multiple cultural activities to create an immersive experience that shows the vibrancy and resiliency of Haitian culture.
Learn more...
---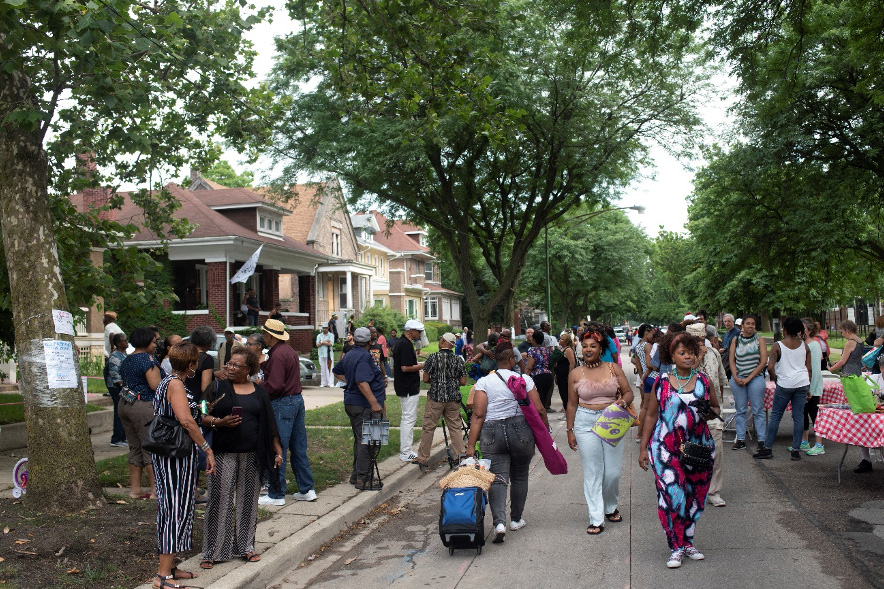 Hyde Park Jazz Festival, photo: Mark Monaghan
Hyde Park Jazz Festival
The Hyde Park Jazz Festival is a collaborative platform dedicated to supporting the presentation and ongoing development of jazz, particularly on the South Side of Chicago. Back Alley Jazz is a collaboration between artists, the Jazz Festival, and South Shore Works, a neighborhood planning and preservation coalition. It is based on the original jazz alley jams that took place in various locations on the South Side in the 1960s and 70s. The grant will support a future visioning and planning process to engage community stakeholders in developing a sustainable platform for the program.
Learn more...
---
Mezcla Media Collective
The Chicago Media Coalition was founded by Sisters in Cinema, Full Spectrum Features, Mezcla Media Collective, and OTV | Open Television to support general operations and strategic partnerships as a development & management commons. It is an outgrowth of an Arts Work Fund Think grant convening. This grant will help the partners to plan out the Chicago Media Coalition's business model and funding structure.
Learn more...
---
Explore Grants
Explore grants provide arts organizations who have fully developed ideas with the resources to test and implement the concept.
---
Artists' Cooperative Residency and Exhibitions (ACRE)
ACRE is an artist-run non-profit devoted to providing resources to emerging artists and nurturing a diverse community of cultural producers. In partnership with Annas, a multi-functional artist platform, it received an Arts Work Fund grant to develop and launch the Chicago Arts Census. The Chicago Arts Census is a comprehensive, cross-discipline data collection effort that seeks to better understand the working, living, and making conditions of artists in Chicago and acts as a tool to advocate for better support and opportunities for artists. This grant will help transform the stories gathered from the Census into actionable knowledge. A data visualization tool and expanded public conversations will facilitate the legibility of the survey results.
Learn more...
---
Arts of Life
Arts of Life advances the creative arts community by providing artists with intellectual and developmental disabilities (I/DD) a collective space to expand their practice and strengthen their leadership. This grant will help Arts for Life develop an expansion strategy, testing the potential of providing individualized in-home or small group support to homebound artists with I/DD to support the development of their creative practices.
Learn more...
---
photo: Max Herman
Comfort Station
Comfort Station is a micro-cultural center based in Logan Square with a mission to activate its historical building with public, community-driven programs that foster deep connections at the intersection of art and life. It is partnering with the Logan Square Neighborhood Association, a community-based organization advancing diversity and leadership development as catalysts for social justice, to expand its capacity for ambitious, community-focused public projects on the lawn adjacent to Comfort Station. This project sits at the confluence of a longstanding vision for a more active engagement of the outdoor public space, the need to adapt programming to COVID-related circumstances, and an effort to ensure residents impacted by gentrification have a represented voice in the community. This grant will help the partner organizations continue to experiment with this public engagement to develop this concept further.
Learn more...
---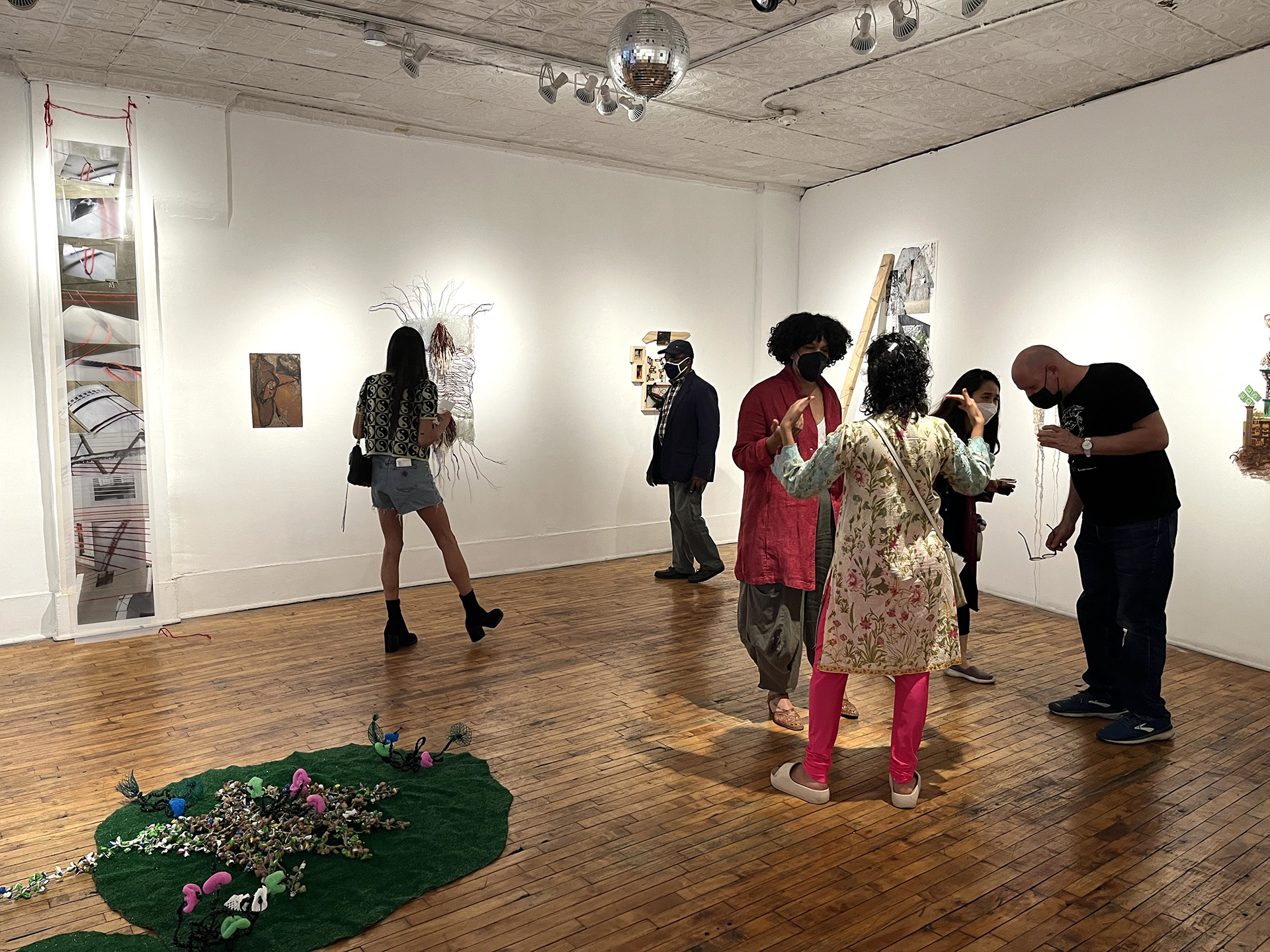 Equity Arts
Equity Arts seeks to reverse the displacement of the arts and BIPOC culture. With an Arts Work Fund Think grant, it developed The Chicago Model for Sustainable Culture. The model focuses on community ownership to rethink how land and property are equitably negotiated in gentrified areas and provides restorative and collaborative space for arts organizations and communities. This Explore grant will support the use of this model to transform a historic arts building in Wicker Park into a community-owned cultural flagship that will be led by and support a collective of BIPOC-led organizations and develop a regenerative system for art leaders and entrepreneurs through leadership training and mentorship. The organization's long-term goal is to catalyze this initiative to create a cultural land bank for arts and community legacy buildings across the city.
Learn more...
---
photo: Dawn R. Stephens
Musical Arts Institute
The Musical Arts Institute is a community-minded music education organization based on the south side of Chicago. It provides private and group music training, afterschool music programming, and opportunities for youth and adults. As students return to in-person learning post-COVID, the organization is seeing a new set of challenges and emotional needs among students. This grant will support the Teaching Artist Professional Development Program, which will explore topics like social-emotional learning, PTSD syndrome, and using hip hop and other cultural music to bridge traditional music education.
Learn more...
---
Photo by William Camargo for Sixty Inches From Center. Scene and sparks from Sixty's Chicago Archives + Artists Festival closing dance party at Read/Write Library.
Sixty Inches From Center
Sixty Inches From Center (a.k.a. Sixty) produces editorial, archival, and collaborative projects about artists, cultural preservation, art history, and art in Chicago and the Midwest. Sixty works to create affirming opportunities that support the growth and sustainability of writers, editors, artists, curators, librarians, archivists, and arts workers within their region. They received an Arts Work Fund Think grant to research and develop a platform that leverages over twelve years of relationships to the direct benefit of the collective of cultural workers and artists they've worked with, most of which are from BIPOC, LGBTQ+, disability, femme, and diasporic communities. Tentatively titled the Sixty Artist Roster, this digital space will connect Sixty's people to tools, resources, material support, and one another as well as job, project, and commission opportunities across the Midwest.
Learn more...
---
Still Point Theatre Collective
Still Point Theatre Collective works with women who are or have been incarcerated, using theater-making to inspire compassion, raise crucial social justice issues, and reduce the stigmas associated with incarceration and disability. Last year, Still Point used an Arts Work Fund grant to assess changes needed to its prison-based theater program in light of COVID. The project led to new insights for Still Point, including the realization of the depth of the leadership and creative skills of the incarcerated women it worked with‒from writing and improvisation to braiding and painting. The organization using this information to explore how it might create a facilitation mentorship program for system-impacted women to learn how to run their own creative programming in jails, prisons, and reentry settings. This grant will support the development and testing of this new model.
Learn more...
---
True Star Media & Foundation
True Star Media & Foundation empowers young people to reach their dreams by offering them a platform to express their creativity and digital skills through paid internships and jobs. This grant supports the Flip The Script Filmmaking Fellowship & Competition, a partnership between True Star and the WordSmith Writers Lab, a screenwriting education company focused on creating career pathways for writers and filmmakers of color. The goals of this effort are to explore new ways to deliver in-demand production skills training and media literacy to young Chicagoland creatives, break down barriers faced by creatives of color, and continue to contribute to the arts community in a way that is beneficial to artists, producers and for the larger art community.
Learn more...
---